A Bigger Picture of Problem Gambling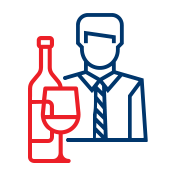 Gambling is seen as a past time in not only Canada, but China, France, Hong Kong, Australia and The U.K. The rates of problem gambling vary from 0.2% in Norway to 2% in The U.K. In the United States, it affects around 1-2% of gamblers. These numbers are actually not that big. In the grand scheme of things more people have a problem with alcohol, nicotine and sugar. To add to this, many experts suggest that nearly all problem gamblers are struggling with co-occurring disorders like depression. It would be ideal to help anyone in this situation and promote the current statistics to drop below the 1% mark.
What the Experts Say
For problem gambling to become virtually nonexistent the industry as a whole needs to pull together and combat the issue. With this in mind, we've outlined some of the things you need to look out for when you're thinking about problem gambling.
Using the help of the Harvard Medical School, serious problem gambling can be defined using the following criteria:
Preoccupation with past, present, and future gambling experiences and with ways to obtain money for gambling.
Need to increase the amount of wagers.
Repeated unsuccessful efforts to cut back or stop.
Becoming restless or irritable when trying to cut back or stop.
Gambling to escape from everyday problems or to relieve feelings of helplessness, anxiety, or depression.
Trying to recoup immediately after losing money (chasing losses).
Lying about gambling.
Committing illegal acts to finance gambling.
Losing or jeopardizing a personal relationship, job, or career opportunity because of gambling.
Requesting gifts or loans to pay gambling debts.
Taking these points and condensing them into a single definition, problem gambling is essentially when you have a desire to control something (i.e. the outcome of a roulette spin or blackjack deal) that's uncontrollable.
This need to control casino online games (which obviously can't be controlled) then leads to disappointment, anger and adrenaline when you start playing. Eventually, this cocktail of emotions leads to a craving that you can't ignore which then, in turn, leads to players anteing up and spending more than they can afford.
Problem Gambling: The Signs
While Harvard's definition of gambling addiction is a great starting point to untangling the issue, it's also important to look at some of the real life factors that characterise the problem. These common traits only touch base on the problem and are very general. If you or someone you know can identify these traits, you will be able to seek out help or advice before things could spiral down.
Losing Control of Emotions: Problem gambling can bring about a wealth of emotions like despair, anxiety, stress or anger. These can abruptly change from one to another as the person attempts to control the issue.
Hiding from the Truth: Denial is a common culprit of problem gambling, but at some point either consciously or subconsciously, the individual will acknowledge there is a problem. At this point they may continue to linger in denial and lie about their gambling or they may turn to loved ones for help.
Financial Problems: As a person encounters further problems with their gambling habits they may begin to feel desperate and attempt to chase losses or make very risky bets. Money that is meant to be used for other things may be gambled away. Stealing, borrowing money from friends or taking out loans may seem like the only solution for the problem gambler.
Relationship Stressors: At some point, if the individual is in a relationship, their significant other may start to notice something is not right. Changes in behaviour, money problems, sneaking around, gambling at all hours and neglecting the relationship are all signs of an issue.
Changes in Appearance: When problem gambling is left to be ignored, a person may develop a gaunt appearance as a result from stress. Weight loss is most common, but some people will gain weight. In very extreme cases hair loss, acne and brittle nails can occur.
Developing Co-occurring Disorders: Co-occurring disorders are very common with problem gamblers. Often depression, stress or anxiety paves the way, known as a precursor, to problem gambling. However, there is a potential risk for a person to turn to alcohol or drugs as a means of coping with their financial burden.
How to Prevent Problem Gambling
Just as you would make an effort to fix a problem at work or at home, problem gambling can be addressed and things can get better. Whether you feel like you may have a problem, or know someone who may need some advice, here are some basic tips to get you started on addressing the problem.
Educate Yourself: Use this page as a guide, and if you recognize the above signs (typically at least 3), make an effort to learn more about problem gambling to get a further idea of what it is.
Understand Games of Chance: Luck, variance and EV is what makes casino online games so much fun. It's the unknowing, and that also means that it will come and go. Every bet you make should be based on the overall expectation and chance rather than a gut feeling.
Don't Chase Your Losses: Coinciding with luck, if you happen to have a bad streak, in which you're bankroll is in the negative, forget about chasing your losses. As upset as you may feel, it's not worth it. Rather go outside, take a breath and let it go.
Manage Your Bankroll: Bankroll management is perhaps the key to avoid any financial woes in gambling. If you can master this, you will retain profit and never have to worry about being a problem gambler. Essentially this will require you to set a bankroll that you can afford to lose and not spend more than that. You can read more about bankroll management here.
Be Open to Talk About a Problem to Another Person
If you've read through this page and feel like you do have a problem with gambling, you may want to consider reaching out to another human being. Whether it's a family member, friend, anonymous internet user or counsellor, there are people who will listen without judging you.
Open up about what you're going through and how you're feeling. Ask them for advice or feedback and tell them you appreciate their support. If you can do this, even if the problem is still in the beginning stages, you will be on your way to healthier coping strategies. And remember, stay positive.
Getting Help for Problem Gambling in Canada
If you feel like talking to someone in Canada who can relate to what you're going through, there is a large support network of people overcoming problem gambling, or who are specialists with a deep understanding of the issue. Some of these support groups include:
Gamblers Anonymous - A free, completely anonymous group found throughout Canada.
Problem Gambling CA - Based in Ontario, this institute has set up a 24 hour hotline to talk to you about your situation and availability to get help.
If you would like further assistance or information on problem gambling, please contact the above groups or professional medical personal.
* Reference for statistic stating 3.2% of the adult population in Canada are affected by problem gambling.
https://www.problemgambling.ca/EN/Documents/FA_GamblingProblemGamblinginCanada.pdf